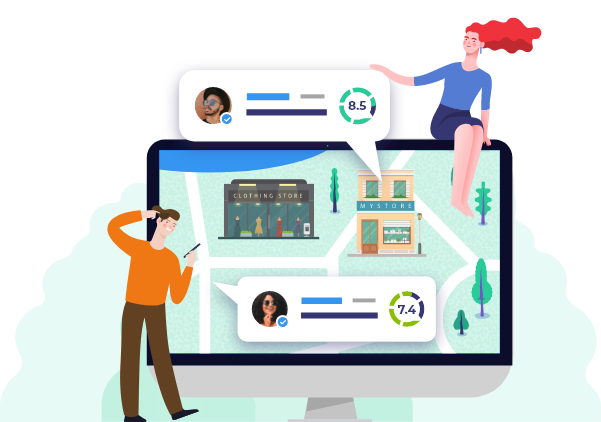 Dating sites
The internet is trending. It's hard to imagine modern life without it. Together with very busy lives, it is no wonder lots meetings take place online, so why couldn't that be the case for meeting a lover? Online dating is becoming more and more popular, but there are so many sites that it might be difficult to filter out the bad ones. Which sites can you safely go to and which ones should you avoid? To find that out, read experiences, reviews, opinions and complaints by the singles who went before you. Did the meeting did not go any further than a first date, of did they find someone to spend the rest of their life with? Read it here.
Please note that some sites contain explicit content that is only accessible for 18+ year-olds.
---














































































Dating sites
Wie de ideale partner niet in de kroeg, op het werk of in de directe omgeving kan vinden, kan zich aanmelden voor een datingsite om de ware liefde online tegen het lijf te lopen. Het zoeken van de ware liefde op een datingsite was enkele jaren geleden nog niet zo populair door een taboe op online dating, maar tegenwoordig is het taboe op online dating helemaal verdwenen. Wilt u nu de ideale partner ontmoeten, dan is het helemaal niet meer raar en zelfs heel normaal om dit via een datingsite te doen. Bent u van plan om een account aan te maken op een datingsite? Lees dan in onderstaande alinea's welke soort datingsites er allemaal zijn en u kunt eenvoudiger kiezen welke datingsite bij u past.
Datingsites zonder specifieke doelgroep
Veel datingsites hebben geen specifieke doelgroep waar zij zich op richten. Dit betekent dat iedereen een account aan kan maken op de datingsite: man, vrouw, heteroseksueel, biseksueel, homoseksueel, hoger opgeleid, lager opgeleid, vrijgezel, getrouwd, verloofd en ga zo maar door. Bij het zoeken naar de perfecte partner kunt u wel aangeven waar u naar op zoek bent, maar het is niet zo dat uw specifieke doelgroep van de perfecte partner alleen op de datingsite wordt toegelaten. Vindt u het prettig om uw zoektocht zo open mogelijk te houden, dan is een datingsite zonder specifieke doelgroep zeker iets voor u.
Datingsites voor singles
Datingsites voor singles laten enkel vrijgezelle dames en heren toe om op zoek te gaan naar de perfecte partner. Uiteraard kunnen leden liegen over hun burgerlijke staat en zelfs met een partner nog een account aanmaken op de datingsite, maar u kunt er over het algemeen vanuit gaan dat u op deze datingsite voornamelijk singles ontmoet. Vindt u het belangrijk om enkel in contact te komen met singles omdat u een serieuze relatie wil starten, dan kunt u het beste een account aanmaken op een datingsite die zich op vrijgezellen richt.
Datingsites voor overspel
Naast datingsites voor singles, zijn er ook speciale datingsites die opgericht worden om overspel in de hand te spelen. Heeft u al een relatie, bent u verloofd of bent u zelfs getrouwd en zoekt u toch een andere partner, dan kunt u een account aanmaken op deze datingsite om deze partner online te leren kennen. Uiteraard gebeurt het online ontmoeten van andere heren en dames in een relatie heel discreet, zodat niemand achter uw geheim kan komen.
Datingsites voor hoger opgeleiden
Op een datingsite voor hoger opgeleiden kunt u enkel een profiel aanmaken als u een HBO- of WO-opleiding heeft afgerond. Vindt u het belangrijk dat uw ideale partner in ieder geval een HBO-opleiding heeft, dan kunt u via deze datingsite op zoek gaan naar een partner die bij u past. Mensen zonder opleiding of met een lagere opleiding, worden niet geaccepteerd op deze datingsites.
Overige datingsites
Naast bovenstaande datingsites, zijn er ook nog enkele andere datingsites die zich op specifieke doelgroepen richten. De populairste doelgroepen voor datingsites, zijn de volgende:
50-plussers.
Christelijke vrijgezellen.
Islamitische vrijgezellen.
Homoseksuele vrijgezellen (gay of lesbisch).
Biseksuele vrijgezellen.
Vrijgezellen die enkel op zoek zijn naar een seksueel contact.
Afhankelijk van uw wensen, behoeften en verwachtingen, kiest u een datingsite die bij u past.
In this age of technology, life without a mobile phone or tablet is hard to imagine. How convenient is it that lots of modern dating providers also offer an app that you can open whenever en wherever you want. But which one should you choose? Perhaps people who used a dating app before you can help you with that question. Therefore we made an overview of all dating provider that offer a dating app. Read reviews, experiences opinions and complaints, and decide for yourself which one suits you best.
Being in love is wonderful: The anticipation of the first date, the excitement first kiss, the butterflies in your stomach every time you think of him and her. Everyone wants love, but what if you just can't find someone who can touch your heart and stir that particular feeling? Or you meet people you like and want to know better, but every single time it turns out that that person already has a husband or wife. Than it might be an idea to try and look for other singles online. There are many sites that offer a place where you can make a profile to look at profiles of people that might have the qualities you are looking for in a partner. But what site should you choose? Since there are so many, that choice might be difficult. Not all sites are equally concerned with the honesty, selection and promotion of its users and the profiles they offer you. Make your choice easier and safer by reading experiences, experiences and reviews of people that went before you, or leave your own review.